---
PPR
Please see our 'Contact Us' page for PPR to fly in.
Airfield Plate
Please see our 'Airfield Information' page for runway details.
Circuit Diagram
To download a printable PDF version, click on this Circuit Diagram link.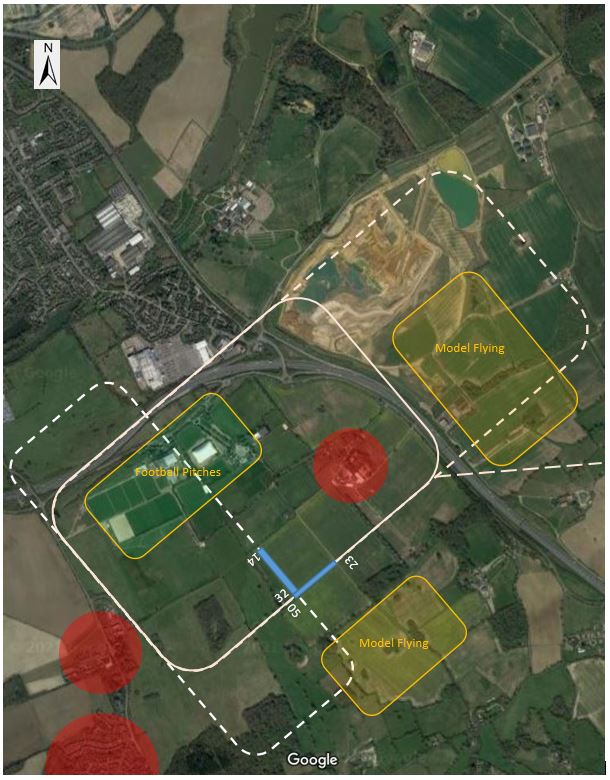 Standard overhead joins can be used and circuits are LH for runways 05 and 32, RH for runways 14 and 23, 1000ft AAL on the north side over the motorway. Do not use runways 14/32 when the football pitches are in use, as shown in green on the area map.
Be careful of model flying activity in both locations on top of the hill to the South and on the East side of the M25 motorway, as shown in yellow on the area map. The model aircraft can be large and/or fast moving, so to give maximum visibility of arriving aircraft, use the extended downwind leg when using runway 23. Alternatively the shorter 23 downwind leg or offset approaches can be used.
Please avoid the noise sensitive areas as shown in red on the area map. Radio blind calls can be made on the standard microlight frequency 129.830, prefixed with 'London Colney traffic'.
Be careful of foot-launched aircraft that may be using non-standard circuits and non-active runway locations for take-off and landing.
There is a minimum of £500,000 third party insurance requirement.